LINK CHANGE
http://www.reuters.com/article/2012/02/14/uk-brazil-police-idUSLNE81D02U20120214
Rio's police...have joined Bahia state's cops...and ended their brief strike...just days before its world famous Carnaval begins.
Only a few police had gone on strike...but that angered many Cariocas.
Salvador's police strike ended after 12 days...because of public pressure.
Officials there also threatened to halt salary payments for striking cops.
Bahia police won a 6.5% raise, amnesty and some bonus payments.
At least 150 were murdered in Salvador during the strike...despite the deployment of 4,000 troops.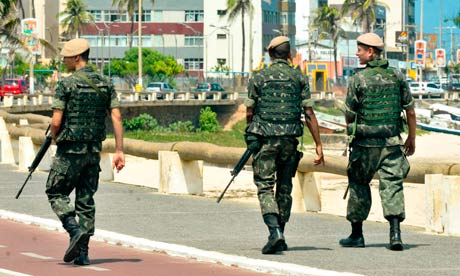 The strikes and resulting increased violence stirred fears over Brasil's ability to provide security for important future events...like the 2014 World Cup and 2016 Olympics.