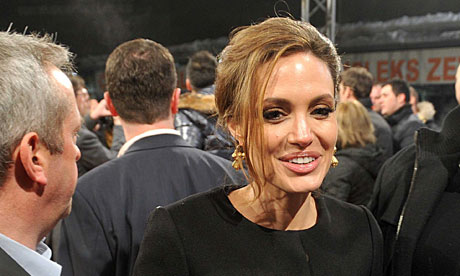 http://www.guardian.co.uk/world/2012/feb/15/angelina-jolie-threats-land-of-blood-and-honey
Celebrity actress turned director Angelina Jolie reports that she and her Serbian cast members have received several threats...after her new film...'In the Land of Blood and Honey'...received a peace award from the Berlin Film Festival.
The film explores the horrors of the 1990's Bosnian war.
It premiered in Sarajevo...to a standing ovation...and overwhelmed her with tears.
But her film will not be shown in Serbia.
A theater owner in the major RS city Banja Luka said: "I have seen the film at a screening in Belgrade. The impression I had of the movie is definitely lousy. I wish I had a multiplex in Sarajevo so I can make a profit on it. Here I cannot. There are simply some films that are acceptable for Sarajevo but not for Banja Luka."