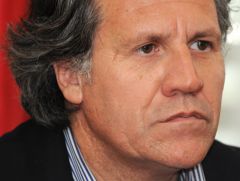 M. PRESS
Uruguay's Foreign Affairs Minister Luis Almagro (above) has described British control over the Malvinas/Falkland islands as a "colonial enclave"...and "inadmissible"...in defending its policy of barring Falkland flagged vessels from entering its ports...recently pronounced by President Jose Mujica.
Port business in Uruguay equals about $300mn annually.
Businesses there said they were shocked by Mujica's announcement.
The UK responded to the admission with 'great concern'...demanding 'clarifications'.
"The Uruguayan position is potentially very worrying and we are carefully considering our next steps. It would be most disappointing that Uruguay has decided to back the shameful attempts by Argentina to harm the economy and way of life of the inhabitants of this small archipelago by blocking access to free trade".