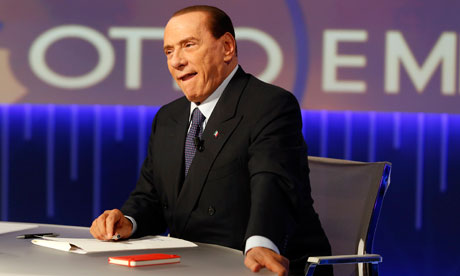 http://www.guardian.co.uk/world/2013/jan/09/berlusconi-accuses-judges-feminist-bias-alimony
Ex-PM Silvio Berslusconi, 78...just can't help it.
Every time he opens his mouth...another controversy ignites.
On TV...the media mogul...worth over $5 billion...complained about his recent costly divorce settlement of 36 million euros yearly...to his 2nd ex-wife of 20 years...actress Veronica Lario.
He called the judges who ordered the payments '...three women judges, feminists and communists, OK! These are the Milano judges who have persecuted me since 1994.'
Berlusconi is appealing a recent tax fraud conviction...and 2 other trials are underway...including the infamous 'Bunga-Bunga' trial in Milano involving his alleged sex with a minor.
AND : A well known voting expert predicts Berlusconi will fall short of stopping a new left center Bersani government in February...and predicts Mario Monti will become the kingmaker in the senate.
http://www.reuters.com/article/2013/01/09/us-italy-vote-idUSBRE9080NA20130109