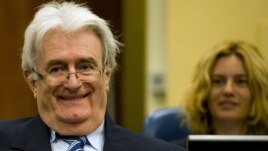 http://www.dailymail.co.uk/news/article-2218409/Radovan-Karadzic-trial-Im-mild-tolerant-understanding-man.html
In a 90-minute monologue...former Serb Bosnian leader Radovan Karadzic...threw all his limp spaghetti against the wall...hoping that some would stick...as he began his defense from 11 accusations of atrocities and war crimes at The Hague.
Karadzic, 67...said he should be praised for promoting peace not prosecuted...and claimed that Muslims staged their own atrocities to get the world's support.
Muslims in the courtroom gasped with disbelief at his outrageous claims.
Acting as his own lawyer...he cross-examined witnesses.