BLOOMBERG/ Detailed account
An appeals court in Lago Agrio has ordered Chevron to pay $18.2 billion for widespread past oil pollution in the Amazon.
A previous ruling...from 19 years of litigation...ordered Chevron to pay $8.6bn...but the company refused...and also failed to apologize for the damage incurred by Texaco...as the court requested.
Chevron merged with Texaco in 2001.
Experts say Chevron will appeal...with the case dragging on for years.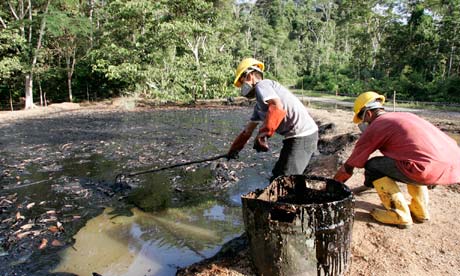 Chevron calls the new judgement "illegitimate" and "a fraud".
Some expect the eventual settlement to be $2-3 billion.
The company is experiencing some painful months.
It was recently slapped by Brasil...with a $28 million fine...ordered to stop work...and faces more fines...up to $20 billion...for a 3,000 bbl oil spill in the promising deep water Frade field off Rio's coast.
Chevron's handling of that small spill was severely criticized...with many charges bandied about.
Chevron reportedly delayed the spill announcement...and held a Rio press conference...in English...not Portuguese...insulting the Brasilians.
Some even claim Chevron altered video evidence....and lacked necessary safety equipment.
A criminal investigation is underway.