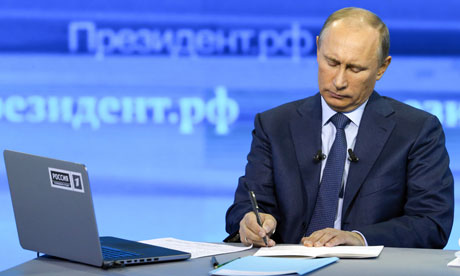 Dead Venezuelan President Hugo Chavez's record for long winded televised question and answer sessions...may soon be in jeopardy.
President Vlad Putin answered questions...and commented about everything under Russia's flaming meteors...for 4 hours and 47 minutes...in his 11th annual session.
The Kremlin bragged that it was Putin's longest appearance...by 15 minutes.
And...Putin appeared to relish the session...until dead oligarch Boris Berezovsky's name was mentioned.
He also avoided using opposition anti-corruption blogger Alexei Navalny's name.
http://www.guardian.co.uk/world/2013/apr/25/vladimir-putin-q-and-a