Italian politics...is at an impasse again as it parliament opens.
It augurs a return to the polls....and more trouble for the Eurozone...and Italian sovereign debt.
The upstart populist 5 Star Movement/M5S party...which controls 30% of the lower house... again rejected forming a coalition with left center Pier Luigi Bersani's party.
Its members...The Grillini...named after their angry reformist leader...comic blogger Beppe Grillo...took seats in the back of the chamber.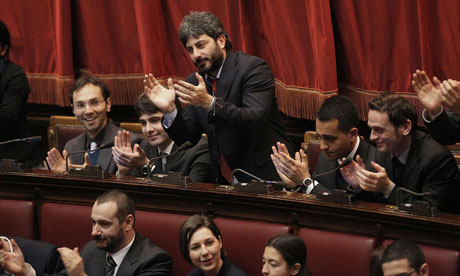 The newcomers agreed to wear ties...and grabbed seats 'neither right nor left...but above and beyond'...to 'breathe down the necks of other partys' members.'
http://www.reuters.com/article/2013/03/16/us-italy-vote-idUSBRE92F08U20130316
Disgraced 3-time ex-PM Silvio Berlusconi made his first appearance since being hospitalized with an eye problem.
He was mocked by whistling and jeering protesters as he entered the chamber...along with shouts of Buffone!/Clown!
Slippery Silvio called his detractors...'poor, stupid fools.'
http://www.reuters.com/article/2013/03/16/us-italy-vote-berlusconi-idUSBRE92F0BO20130316