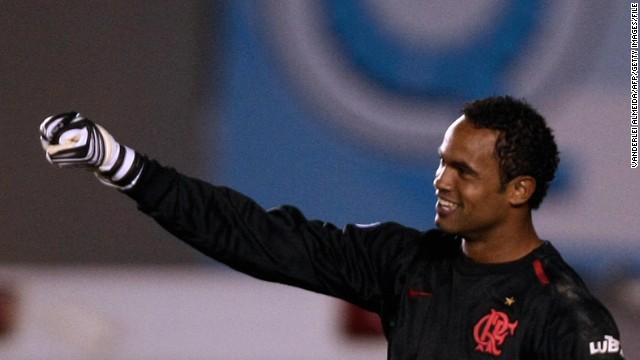 Bruno Fernandez das Dores de Souza...the former star goalkeeper of the Sao Paulo Flamengo football team...was convicted for the gruesome murder and disposal of a young woman who bore his child.
The court sentenced de Souza, 28...to more than 22 years in prison.
In 2010...he was arrested for assault and kidnapping...after his onetime lover and mother of his young son...was dismembered...and fed to pet dogs by hired thugs...in June in Belo Horizontes.
Her body has never been recovered.
The baby was found 2 weeks later...unharmed.
De Souza, his wife and 7 others were charged with torturing and killing model Eliza Samudio, 25.
De Souza confessed to allowing his best friend to hire men who tortured and murdered the woman...who was only seeking legal
child support.
Some footballers believe he would have been selected for Brasil's 2014 World Cup team.
http://www.dailymail.co.uk/news/article-2290175/Bruno-Fernandes-Souza-Brazil-footballer-jailed-girlfriends-murder-body-fed-Rottweilers.html