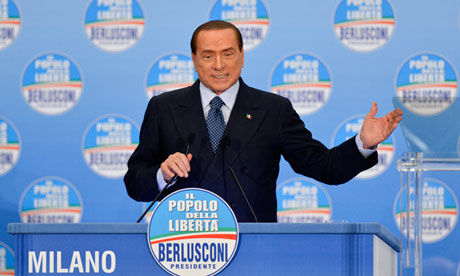 ECB officials may be doubling-up on antacids...after corruption allegations were revealed against Spain's PM Rajoy on Thursday.
And...in Italy...slippery Silvio Berlusconi has gained support...and now lags only 5 points behind the left-leaning leader Pier Luigi Bersani ahead of a late February election.
Berlusconi is playing wild-eyed populist...promising to kill a very unpopular and PM Monti instituted property tax...and even refund last year's 4 billion euro take.
Silvio first abolished the same loathed IMU tax in 2008.
'The euro crisis is not over'...states German FinMin Schaeuble.
In fact...France complain that the euro's recent surge...now at $1.36...is hurting exports.
Oh...and don't forget there's also a looming...perhaps 15 billion euro...Cyprus bailout.
http://www.bloomberg.com/news/2013-02-03/euro-tremors-risk-market-respite-on-spain-italy-banks.html
AND: To Read: Silvio proposes property tax cuts, no tax on rich, gets standing ovation.
http://www.guardian.co.uk/world/2013/feb/03/silvio-berlusconi-italy-tax-cuts