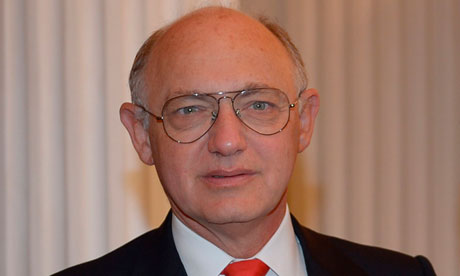 IST LINK CHANGE
The stalemate continues over new talks about the disputed Falklands/Las Malvinas Islands.
Argentina's Foreign Minister Hector Timerman (foto) continued to object to the presence of islanders at a London meeting.
Timerman calls them 'settlers'...'implanted not natives.'
During a press conference held in Spanish...he called Britain...'the greatest colonial empire from the 19th century...that thank god has been defeated worldwide.'
He also plans to prosecute oil firms that explore in the region.
Timerman believes that in 20 years...negotiations will deliver the islands again to Argentine control.
UK's Foreign Minister William Hague didn't meet with Timerman because he insisted that islanders must be allowed to sit-in.
The 3,000 island residents will hold a referendum on sovereignty in March.
http://uk.reuters.com/article/2013/02/06/uk-britain-argentina-falklands-idUKBRE9150LF20130206