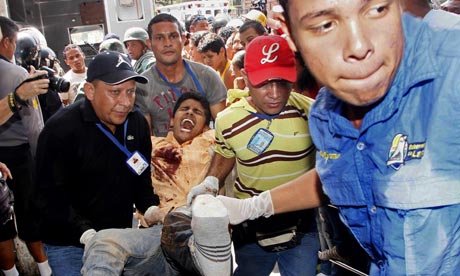 http://www.guardian.co.uk/world/2013/jan/27/venezuela-uribana-prison-riot-death-toll
3RD LINK CHANGE
Officials are closing the Uribana prison in Barquisimeto...as the death toll rises after 2 days of violence.
At least 61 are dead...with 120 wounded...and 45 hospitalized.
The dead includes guards, prison workers and inmates.
There were rumors among anxious relatives that 400 had died.
The government has yet to release a full casualty list.
Uribana prison in Lara state houses 1,400...but was built for 850.
Venezuela has 34 prisons...all of them old, overcrowded...and often suffering deadly violence.