http://www.reuters.com/article/2012/11/30/us-brazil-economy-gdp-idUSBRE8AT0KM20121130
The miracle in Brasil...seems officially over.
Experts now estimate barely 1% growth for all of 2012...after Q3 showed only a miserable .6%...half of what was projected by officials.
Businesses cut investments by 2%...and consumers retreated.
A prominent economist simply declared of Q3..."It was horrible!'
Brasilia delivered an acceptable 2.7% growth in 2011...following a sizzling 7.5% in 2010.
The BOVESPA dropped by 1.4% on the news...and the REAL settled at 2.125 per usd.
Inflation is also quickening...registering 5.45% in October.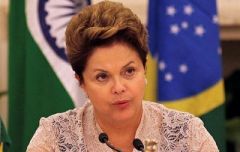 UPDATE: LINK ADD: President Rousseff vetoed parts of a controversial Petrobras bill...that cut royalties of the 3 major oil producing states by 6%. Rio Governor Cabral had threatened World Cup/ Olympic infrastructure and stadium stoppages...if the money was lost.
http://www.bloomberg.com/news/2012-11-30/rousseff-vetoes-part-of-royalties-law-to-avoid-delay-in-auctions.html