http://en.mercopress.com/2012/11/01/argentine-16-to-18year-olds-will-be-voting-in-next-year-s-mid-term-election
Perhaps hoping to boost her party's chances in 2013 midterm elections...President Cristina Fernandez's congress pushed thru a law that changes the voting age to 16.
The final vote was 131 to 2.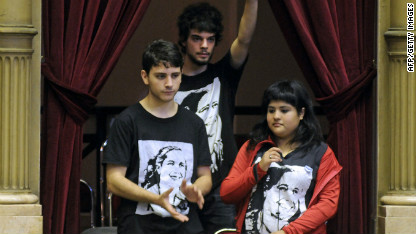 About 1.5 million youths are affected.
Voting is required for those 18-70...but will be optional for those aged 16 and 17.
Most of Cristina's opponents stormed out of the lower house before the vote was taken.
16 year olds are already allowed to vote in Brasil, Ecuador and Nicaragua.