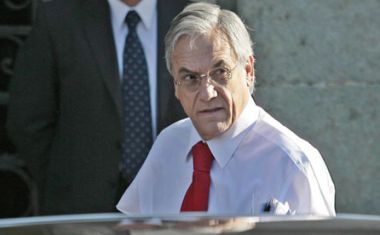 http://af.reuters.com/article/worldNews/idAFBRE89S0YM20121029?sp=true
Conservative billionaire President Sebastian Pinera is Chile's most unpopular president in its brief democratic history.
And...voters are all about punishing his party because of him.
Pinera's bloc lost in municipal elections in Santiago and Concepcion...as the leftist Cercertacion coalition stages a comeback.
An analyst says... 'This is a rejection of Pinera as a person and the promises of the Alianza that weren't fulfilled. People expected improved standards of living.'
Pinera blasted the low 41% voter turnout.
He is forbidden from running for a consecutive re-election.