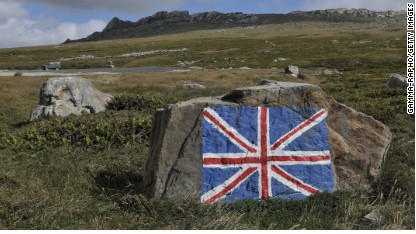 http://edition.cnn.com/2012/06/15/world/americas/argentina-britain-falklands/index.html?hpt=ila_c1
President Cristina Fernandez claims she wants to sit down with UK officials and discuss their heated conflict over Falkland Islands control.
She told a UN committee: 'We have to leave behind us this outdated story, this outdated history and build a new history based on dialogue.'
Recently...Fernandez has been aggressively pushing Argentina's claim on the islands... especially after possibly large oil fields were discovered there.
Fernandez has asked: 'How can it be claimed with 14,000 kilometers away, that this is part of British territory?'
Island officials have announced they will hold a referendum...possibly next year...asking the 3,000 residents if they want to remain under the UK's aegis.
AND
: PM David Cameron warns that the UK 'stands ready and willing' to defend the islands...with 'absolutely no negotiation.'
http://www.reuters.com/article/2012/06/14/us-britain-argentina-falklands-idUSBRE85D1NA20120614