http://online.wsj.com/article/SB10001424052702304750404577321461366666028.html?mod=googlenews_wsj
Some EU skeptics...like President Vaclav Klaus call it...the latest legislative mishap from a distant...and exceedingly ignorant bureaucracy in Brussels.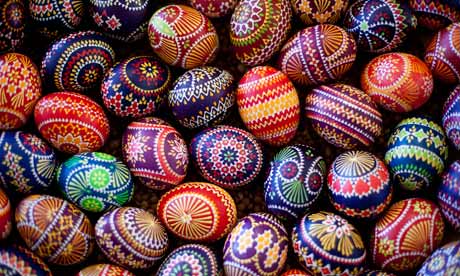 New, sudden and stricter rules...foisted by the EU on Czech chicken farmers...requiring roomier cages demanded by animal rights activists...have shoppers scrambling to buy more expensive and suddenly scarce eggs.
In Prague...10 eggs...cost an average of...E2.07/$2.76!
So they are crossing borders...to buy eggs in Poland. Or Germany.
It's eggsanity...especially compared to the USA.
Here...in an Austin Target superstore...this week's sale price...for 12 large eggs....is $1.29!
And no VAT or state sales tax on most foods.
And...with NO limit on eggs!
NEW!!! Czechs scramble for eggs to decorate.
http://www.guardian.co.uk/world/2012/apr/06/czech-easter-eggs-shortage