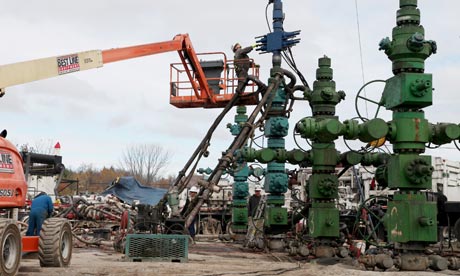 http://www.bloomberg.com/news/2012-02-24/ukraine-to-auction-production-stakes-in-two-natural-gas-fields.html
Like neighbor Poland...Ukraine is moving to exploit its shale nat gas deposits and hopefully cut reliance on Russian gas.
It will offer up to 70% of production at its Yuzivska and Oleska fields in late April.
Ukraine may hold up to 42 trillion cubic feet of shale gas.
Kiev also rejected a new Russian offer to reduce current gas costs...by 10%.
It says 10% reduction...is not enough.
Ukraine is paying Gazprom $415 tcm in Q1...and wants $250 tcm.
AND: Warsaw got a surprisingly high 47 offers for rights to develop wind power off its Baltic coast.
Currently...Poland has no wind farms off its blustery but shallow Baltic Sea coastline.
After approval...it will take at least 6 years to build a wind farm.
http://www.reuters.com/article/2012/02/22/poland-wind-idUSL5E8DM23K20120222