IST LINK CHANGE
Security issues...as well as trade matters...are high on President Obama's agenda as he travels to San Jose on Friday to meet with leaders from Costa Rica, Rep. Dominicana, Nicaragua, Panama, Honduras, Guatemala, Belize and El Salvador.
Leaders are pleased that the USA is showing them more attention and respect.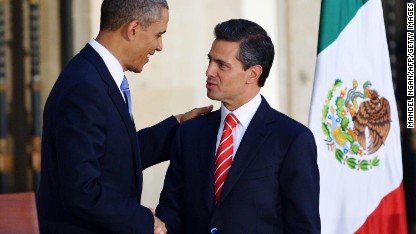 In Mexico...Obama was informed that the USA will now only have access to crucial intelligence info thru one office.
The USA and Mexico exchange about $500 billion in trade annually.
http://www.dailymail.co.uk/news/article-2319334/Obama-bemoans-drug-violence-Central-America-defending-administrations-efforts-curb-U-S-demand-narcotics-trade.html