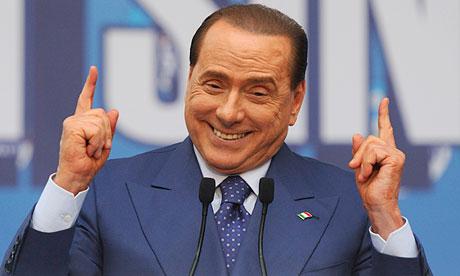 The prosecution wrapped-up its Bunga Bunga sex trial in Milano against ex-PM Silvio Berlusconi.
Prosecutors are seeking 6 years...and a lifetime ban from politics for slippery Silvio.
They claim he had sex 13 times with underage Moroccan teen Ruby Heartbreaker...and then used his influence to cover it up.
A decision isn't expected for months.
Even then...Silvio has the right for 2 appeals...which can delay sentencing for years.
http://www.reuters.com/article/2013/05/13/us-italy-berlusconi-idUSBRE94C0LB20130513