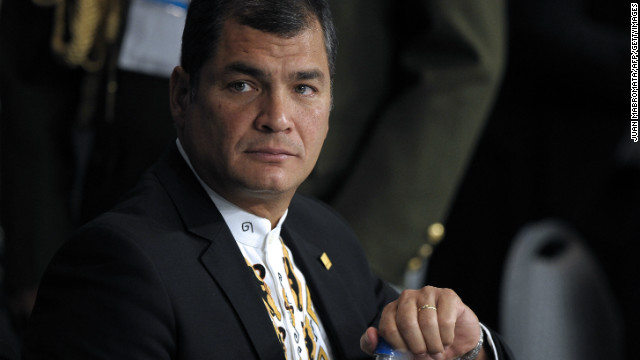 IST LINK CHANGE
President Rafael Correa is running for another...and last term...on 17 February.
At a campaign rally for him in Quininde,
Esmeraldas province on Monday...a man stabbed to death 2 people...and wounded 5 others...moments before Correa's arrival.
The suspect ran away...but was later detained.
Correa declared that the killings were not politically motivated.
He claims the man was high on drugs and alcohol.
Correa, 49...recently greatly increased spending...for health care, education and new roads.
He is currently polling at more than 50%.
His closest rival...ex banker Guillermo Lasso...is 31 points behind...with 22% support.
http://www.reuters.com/article/2013/02/06/us-ecuador-election-idUSBRE91504020130206
AND:
German tourist Dirk Bender has been sentenced to 4 years for trying to smuggle 4 endangered Galapagos iguanas in July. He was caught at the island's airport.
http://www.france24.com/en/20130205-german-gets-jail-time-galapagos-iguana-smuggling