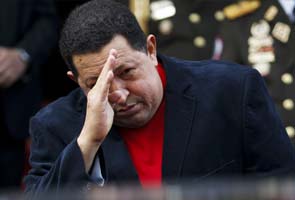 http://www.google.com/hostednews/ap/article/ALeqM5hzDMxGgQnoyV06-KJav2VAPIkdsQ?docId=22a0ee483da342dc9424fba4bbf072d5
During a brief but grim televised report from Cuba on Sunday...acting chief executive... VP Nicolas Maduro announced that President Hugo Chavez was in a 'delicate condition'... suffering 'new complications'...from a 'respiratory infection'...after his 4th and latest cancer surgery...in La Habana.
Chavez, 58...has not been seen in public since the 11 December operation.
He is scheduled to be sworn-in for his 3rd term as president on 10 January.
Caracas is again speculating about his deteriorating health...the legal transfer of power...and swearing-in ceremony itself.
It was also announced that all public new year's eve festivities would be cancelled.
ALSO: TO READ
: Analysis...with brief VP Nicolas Maduro profile.
In public against opponents, the 50 year old former bus driver...is often 'combative and full of vitriol'...but lacks Chavez charisma.
http://www.reuters.com/article/2012/12/31/us-venezuela-chavez-maduro-idUSBRE8BU09G20121231