http://www.bloomberg.com/news/2012-12-17/capriles-defeats-chavez-candidate-in-venezuela-regional-vote-1-.html
Opponents of seriously ill President Hugo Chavez's learned another hard lesson.
Never underestimate the sympathy vote.
The opposition lost governorships in 5 of the 8 states they held before yesterday's election.
Chavez allies took 20 of 23 positions....including an upset of Pablo Perez in populous and oil rich Zulia state.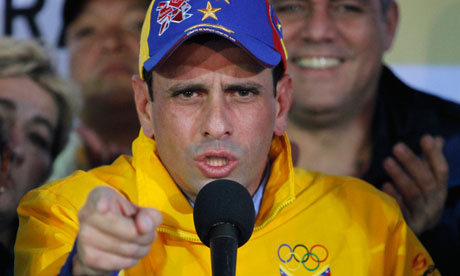 The only silver lining was that leading Chavez opponent...Henrique Capriles Radonski, 40...won in Miranda state.
He beat former VP Elias Jaua...Chavez's handpicked candidate to kill off the young guapo Capriles' future chances.
Chavez's radical brother Adan held the family's home state Barinas.
Voter turnout was a relatively low 54%.
Experts say all attention will now focus again on rumors...while Chavez recovers from a 4th cancer surgery in La Habana.