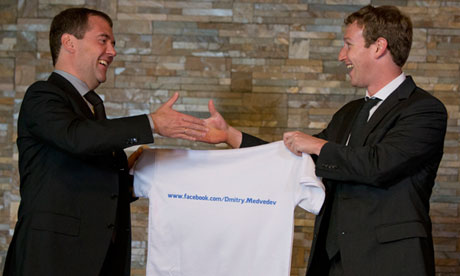 http://www.france24.com/en/20121001-zuckerberg-moscow-boost-facebooks-presence-0
Savvy Russian tech engineers...Facebook wants you!
In Russia...Facebook badly trails leader Vkontakte/VK...in daily users.
So Facebook founder/CEO Mark Zuckerberg has visited Moscow...hoping to expand its image and users there...of the price beleaguered IPO...and some claim stagnating social network giant.
Only 3.5 million Russians use Facebook daily...while 22 million prefer VK.
And...some also claim...young Zuckerberg is also on a scouting mission in Moscow...to recruit techies for California gold in the Silicon Valley.
Last year...Facebook opened a large Austin, Texas office.
Zuckerberg also met with tech-happy PM Dmitry Medvedev.
Wired reports that Google is another also-ran in Russia...getting only 26% of all searches...while Yandex dominates with 61%...and has unveiled its new chromium browser to compete with Chrome.
AND : Mail.ru is looking to take control of VK...to thwart future Facebook growth.
http://www.bloomberg.com/news/2012-10-01/mail-ru-said-to-seek-vkontakte-control-after-scrapped-ipo.html
ALSO: Zuckerberg is now downplaying hits as the gold standard for ad success.
He is telling advertisers that clicks are not the full metric for effectiveness.
USA auto giant GM recently abandoned all its advertising on Facebook.
http://www.reuters.com/article/2012/10/01/us-facebook-ads-idUSBRE8900I120121001