http://www.reuters.com/article/2012/10/09/us-usa-court-ecuador-idUSBRE8980UQ20121009
More potentially bad news for oil giant Chevron's management...and its stockholders.
The USA's Supreme Court refused to block a $19 billion fine levied by a Quito court against Chevron for polluting Ecuador's Amazon region.
Chevron assumed pollution liabilities when it acquired Texaco in 2001...and management has stubbornly refused to settle damage and full cleanup costs.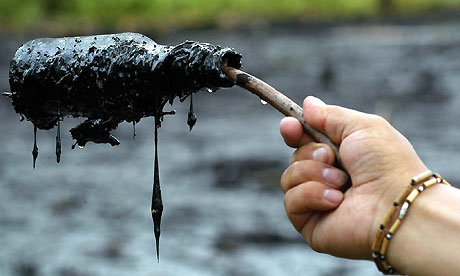 Texaco allegedly dumped 18 billion gallons of toxic waste...left more than 900 waste pits...burned off millions of cubic meters of gas with no monitoring or protection...and spilled 17 billion gallons of crude from pipe ruptures.
Local residents suffer higher rates of cancer and other serious illnesses.
In Brasil...
Chevron is also under attack for polluting its waters...and has been ordered to desist from further activity...while facing a $20 billion damage suit by Rio state.
It has already paid a $17 million fine.