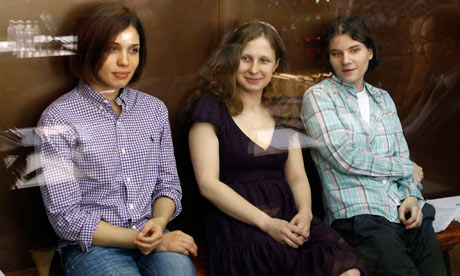 http://www.guardian.co.uk/music/2012/jul/30/pussy-riot-trial-vladimir-putin
This newsblog has been covering the arrest and jailing of 3 young woman members of the punk band Pussy Riot for 5 months.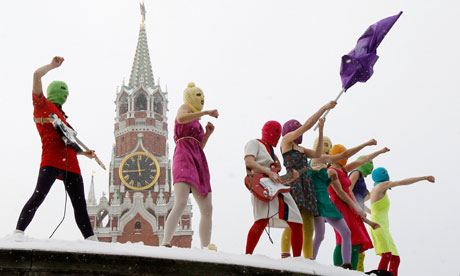 They were caught singing...for 51 seconds...an anti-Putin song...in the main Russian Orthodox church... that soundly pissed off leader Patriarch Kirill...and Putin.
They have been jailed since February.
Now...their trial has finally begun...while they sat inside a plexiglass cage usually reserved for terrorists and disgraced billionaires.
They pleaded not guilty...and apologized to church followers.
The news is that public opinion is finally turning in their favor...and against President Putin.
The trial was supposed to be streamed live....but the judge has pulled the plug on that.
Many well known musicians have expressed support for the punkers...including the Red Hot Chile Peppers...and Franz Ferdinand.
ALSO READ: Longer treatment:
http://www.guardian.co.uk/world/2012/jul/29/pussy-riot-protest-vladimir-putin-russia?intcmp=239