4th LINK CHANGE
http://www.france24.com/en/20120728-cuban-dissidents-widow-rejects-official-account-death
The widow of dead activist Oswald Paya still rejects official findings about her husband's car crash.
Cuba's poor highways in eastern Granma province and a 'reckless' speeding Spanish driver were blamed for the deadly crash involving leading Catholic dissident...Oswaldo Paya, 60.
Paya was a passenger with 2 visiting activists in a rental car 22kms outside of Bayamo that struck a tree.
Another Cuban dissident...also died.
After his La Habana funeral some 50 dissidents were detained...but most were released the next day...with some claiming rough treatment by agents.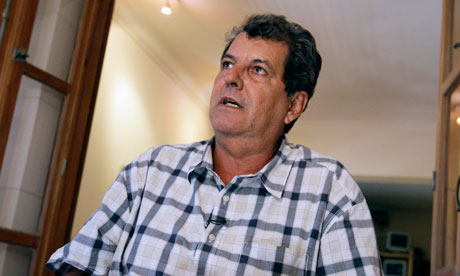 Paya was nominated twice for the Nobel Peace Prize...and received the 2002 Sakharov prize for peace.
Anyone who has ridden in a car in Cuba...knows how truly dangerous and frightening it can be.
Usually...there no seat belts or air bags...but there are always wild and reckless drivers... dodging pot holes and mangy dogs...madly zipping in and out of slow traffic.
Even newer rental cars are often badly maintained...with balding tires...and broken lights.
Paya's
daughter and son claim the vehicle was intentionally targeted...and rammed.
2 yumas in the Hyundai only suffered minor injuries.
Both the Spanish driver and a Swedish passenger were released from hospital but have been held for questioning.
The Spaniard may be charged for reckless driving and involuntary murder for the accident.
The Police report says that the car was speeding in a road repair zone...and hit a pothole...before crashing into the tree.