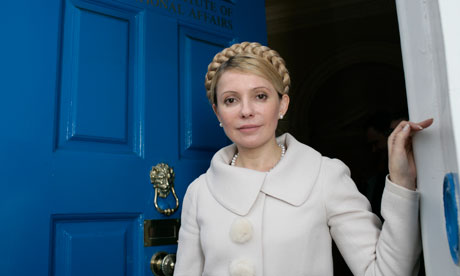 http://www.guardian.co.uk/world/2012/may/03/yulia-tymoshenko-ukraine-euro-2012
ANALYSIS
President Viktor Yanukovych built a special section for EU VIPs to watch matches of the Euro Cup 2012 football.
The 54 great seats may instead be filled with regular folks instead...as cancellations and pressures grow to boycott Kyiv from EU leaders...over the reported ill treatment of Viktor's hated and imprisoned opponent...ex-PM Yulia Tymoshenko.
The Ukraine is calling the potential boycott...'destructive.'
An official statement said: 'A successful championship will be a victory not for politicians, parties or ideologies but for all Ukrainians and Poles. It's failure will be a loss of millions.'
Experts say Yanukovych has played the Yulia issue badly...showing inexperience in foreign affairs...and believe he may be too proud to back down.
No surprise...Russia's president-elect Putin supports Ukraine...does not approve of a boycott...because he claims it wrongly mixes politics with sports.
In all...a massive PR blunder...when it should be the Ukraine's time to shine.
TO READ: Ukraine reacts to possible boycott.
http://www.bbc.co.uk/news/world-europe-17942632