h

ttp://www.bbc.co.uk/news/world-europe-17655846
The clock ran out for Dr.Larisa Litivinova...and she is grateful.
Litvinova was a prison doctor...and one of 2 medics facing charges in the death of Sergei Magnitsky.
Magnitsky, 37...died in the maximum Butyrka prison in 2009...and many critics claim he was tortured and died from 'deliberate and inhumane neglect.'
He worked for a British investment fund...Hermitage Capital...and was jailed after accusing interior ministry officials of a $230 million tax fraud.
Litvinova's case was dropped because of a 2-year statute of limitations.
Her prison's chief doctor is still under investigation...but no one has been prosecuted for Magnitsky's death.
AND:
Russia faces a slowing economy...and now only projects 3.4% GDP growth for 2012.
Meanwhile...capital investment continues to flee Moscow.
Last year...it lost $80.5 billion...and the outflow continues...because of a perceived 'unfriendly business climate.'
http://online.wsj.com/article/SB10001424052702304072004577327622348033522.html?mod=googlenews_wsj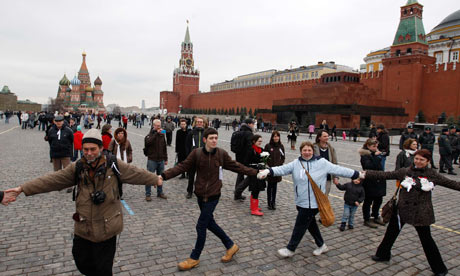 ALSO: Hundreds of activists were allowed to protest in Red Square for the first time.
But 3 were arrested for setting up a tent.
http://www.guardian.co.uk/world/2012/apr/08/russia-red-square-protest