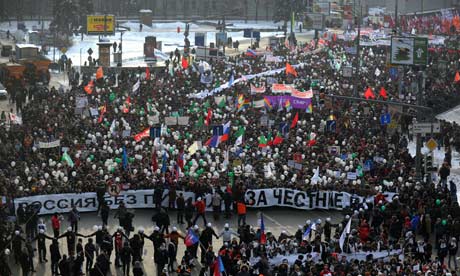 http://www.reuters.com/article/2012/02/04/us-russia-idUSTRE81309720120204?feedType=RSS&feedName=topNews&rpc=71&google_editors_picks=true
An estimated 120,000 people braved freezing Moscow temps to once again protest recent rigged elections and PM Putin's continued rule in the upcoming March presidential election.
"Under Putin, so many thieves have come to power," said an engineer. "The authorities are totally closed, they don't talk to the people. We want to choose leaders who listen to us. And we don't want to worship a single person."
There was also a pro-Putin rally held in Moscow.
TO SEE 9 Fotos:
http://www.guardian.co.uk/world/gallery/2012/feb/04/putin-protests-russia-in-pictures