http://www.guardian.co.uk/world/2012/oct/10/pussy-riot-member-free
A Moscow court suspended the 2-year sentence of convicted Pussy Riot collective member Yekaterina Samutsevich, 30...and she was set free.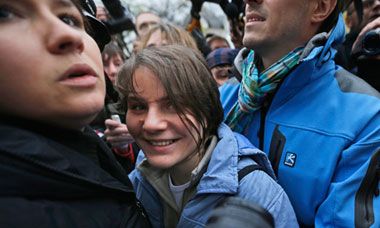 The appeals court said while she was briefly in the Russian Orthodox cathedral...she did not perform.
But it upheld sentences for the 2 other band members...both of whom have young children...and likely will be sent to remote prison camps...to serve their time...until March 2014.
AND : A now famous Russian granny singer finally got closure...solving the sad 70 year mystery of the location of her father's grave.
A member of the 6 singing grannys/Babushki...Russia's entry in the Eurovision 2012 Song Contest...Natalya Pugachyova, 76...long wondered where her dad was buried...after he disappeared fighting the Nazis on the Eastern Front in 1942.
When she revealed her quest for her dad's gravesite...volunteers went about searching for his remains...and found it in a mass grave...in the Voronezh region south of Moscow.
http://www.dailymail.co.uk/news/article-2215236/Natalya-Pugachyova-Elderly-star-Eurovision-Song-Contest-uses-new-fame-solve-70-year-old-mystery-missing-father.html