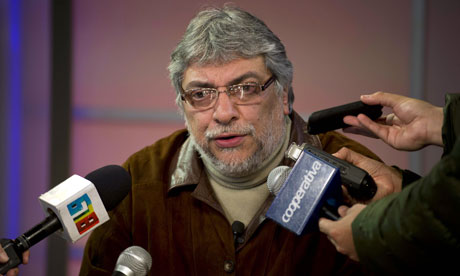 2nd LINK CHANGE:
http://edition.cnn.com/2012/06/25/world/americas/paraguay-president/index.html?hpt=ila_c1
Criticisms...and the 'cold shoulder' treatment from its neighbors...are growing after the sudden 5 hour impeachment trial of Paraguay's President Fernando Lugo.
Perhaps most painful for Asuncion...Venezuela's Hugo Chavez stopped subsidized oil shipments.
Brasil, Argentina, Chile, Venezuela and Uruguay withdrew their ambassadors.
Brasil is Paraguay's top trading partner.
Lugo, 61...denounced the 'parliamentary coup' but hopes mounting international criticism might restore him to the presidency.
He urged his followers to remain peaceful...but is talking of maintaining 'a shadow government.'
About 5,000 supporters had gathered outside the senate to protest the impeachment.
Police used tear gas to disperse them.
Lugo's term was to end in August 2013.