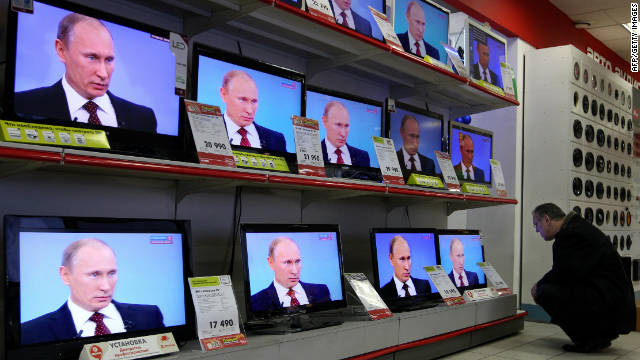 LINK CHANGE/ BBC
PM Vladimir Putin appeared for 4.5 hours on his annual live TV call-in show...and vaguely hinted at relaxing control of Russia's politics...but rejected calls for a new election.
He also insinuated that some protesters were paid by foreign powers.
Critics claim 13mn votes were rigged.
Putin made an observation about mistaking the protest as being about condoms and AIDS...that was quickly mocked on social media.
Meanwhile...in what some observers say is a first step to calm growing number of protesters...the suddenly weakened United Russia party's chairman Boris Gryzlov
said he would resign as Duma speaker.
"I decided today to reject my mandate as a deputy," Gryzlov said. He said he would step down because it would "not be right to hold the post of chairman of the chamber for more than two consecutive terms".
Gryzlov has been the Duma's speaker since 2003.
He once famously stated that "the Duma is not a place for discussion".
AND: Rumors that Putin, 59, undergoes Botox treatments...to look youthful...
are trending on Russia's TWITTER.
http://www.telegraph.co.uk/news/worldnews/europe/russia/8958502/Botox-trends-on-Twitter-amid-Vladimir-Putin-surgery-rumours.html
ORIGINAL Post/Link about Duma resignation:
http://www.guardian.co.uk/world/2011/dec/14/vladimir-putin-question-protests-live-tv