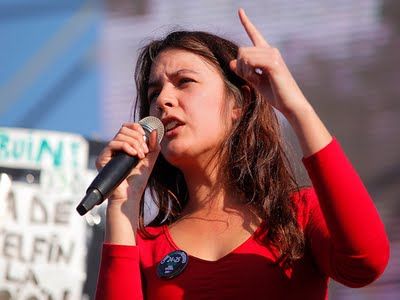 LINK CHANGE/ BBC
After 3 brutal months of protests...met only with stubborn resistence, water cannons and tear gas...that sent his popularity to historic lows...President Sebastian Piñera reluctantly agreed to meet with students and teachers demanding more state funding for education.
He also said officials continue to look into the death of Manuel Gutierrez Reinoso, 16, shot outside Santiago.
Witnesses said he was shot by police. He was the first fatality in 3 months of protests.
Student leader Camila Vallejo (above) has vowed to confront the government "face to face" over the death. "They have to take responsibility for this, one way or another, because it cannot go unpunished," she said.
As for the Pinera meeting, University of Concepcion leader Guillermo Petersen is doubtful the president will make any real concessions.
Almost 1,400 people were arrested nationwide...with more than 200 police and civilians injured during the 2-day general strike.