Proclaiming that she is...and was...no whore...Karima El-Mahroug...aka infamous 'Ruby the Heartstealer'...protested outside the Milano courtroom where disgraced ex-PM Silvio Berlusconi, 76...is being tried for allegedly having paid sex with her...at age 17.
After 2 court requests...that she ignored...the court decided not to hear her testimony.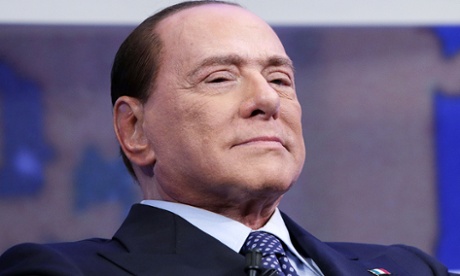 The 19-year-old Moroccan 'dancer'...and recent mother...read a 6-page statement...and said: 'I am not a prostitute. I've never had sex with Silvio Berlusconi.'
But...she admitted that she had lied about her ancestry...being related to Egypt's leader Hosni Mubarek.
Milano p
rosecutors claim she and slippery Silvio had sex 13 times.
The BBC described her tearful protest...as a 'media scrum.'
http://www.dailymail.co.uk/news/article-2303930/Silvio-Berlusconi-trial-Bunga-bunga-teen-Ruby-Heartstealer-protests-Im-NOT-prostitute.html