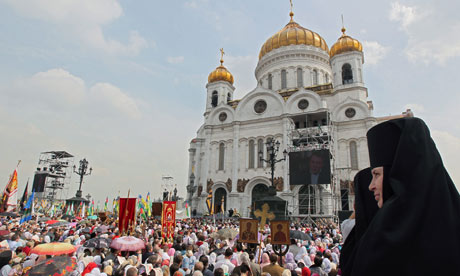 FIRST NEW LINK:
http://www.telegraph.co.uk/news/worldnews/europe/russia/9219425/Russian-Orthodox-church-prays-for-correction-of-anti-Putin-Pussy-Riot.html
In Moscow...an estimated 65,000 prayed publicly in defense of the Orthodox church... against "the sacrilege and mockery" of some...like members of the punk band Pussy Riot (below)...now on trial.
Pray-ins were also held in other cities.
Last week...over 20 of hundreds of demonstrators outside a courtroom were arrested for protesting during the arrest hearings of 3 women from the punk rock band...Pussy Riot.
TO WATCH: 1:39 Video Report:
http://www.euronews.com/2012/04/22/orthodox-russians-mass-to-defend-church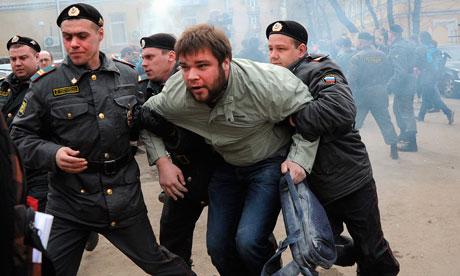 The women performed a song in February...protesting president-elect Putin...inside a Moscow Orthodox cathedral.
The women could face 7 years in jail.
The Russian Orthodox Church was highly offended by their raucous masked performance... with obscene lyrics...inside their sacred cathedral.
Original Post:
h

ttp://www.bbc.co.uk/news/world-europe-17767457
With 2:38 Video Report...after ad.