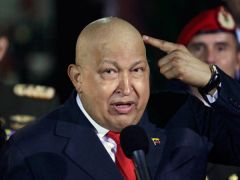 http://www.google.com/hostednews/ap/article/ALeqM5g4dm2YalxUpf604mpK801pC_rT-g?docId=d76a037e340c464a8f9dbfe01f63fc03
Bonds rallied, ebbed and rallied again in Caracas...after President Hugo Chavez's surrogates bitterly denounced new rumors...spread by 'dirty scum'...that he needed another cancer surgery.
But...later in a 2-hour address to the nation...Chavez admitted having a new small tumor that required a 3rd operation...probably in Cuba.
Chavez, 57...has steadfastly refused to say what kind of cancer he had.
Some doctors speculate that he suffers from colon or prostate cancer...but hair loss is unusual after colon cancer treatment.
Chavez's opposition has finally unified...and selected Henrique Capriles Radonski...a young energetic governor to face him in October...and possibly end his 13-year rule.