In the USA now...it's zombie this...and zombie that.
Sunday on cable TV...the mid-season premiere of AMC's zombie series...The Walking Dead...set a new record...with 12.3 million viewers...beating all regular broadcast except the Grammy awards.
But...the zombies are already here...risen from the dead...walking...and often even driving.
Look around...if you can bear to tear yourself away from those small screens.
You...may be one of them!
TO READ:
http://www.uproxx.com/tv/2013/02/10-things-we-learned-from-last-nights-season-3-5-premiere-of-the-walking-dead/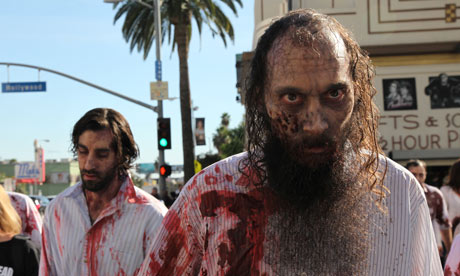 NEW!!!
ALSO
:
http://www.guardian.co.uk/commentisfree/2013/feb/11/americans-love-zombies-culture