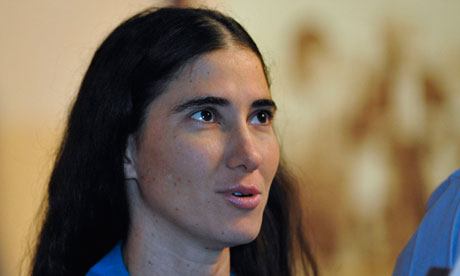 2ND LINK CHANGE:
http://www.miamiherald.com/2012/10/06/3037374/cuban-blogger-yoani-sanchez-freed.html
Well known dissident blogger Yoani Sanchez, her husband and driver were released after more than 30 hours detention in Bayamo.
They were transported back to La Habana by authorities.
Criticisms of the arrests were voiced worldwide.
The couple and their driver there to cover the expected one day trial of Spaniard conservative Angel Carromero (foto)...who was arrested for the vehicular murders of famous Cuban dissident Oswaldo Paya...and another Cuba activist.
Sanchez's cellphone was disconnected.
She was to cover the trial for Spain's El Pais news outlet.
Her Twitter account had detailed her trip to Bayamo...but her tweets ended abruptly.