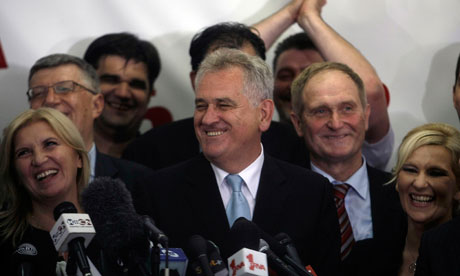 LINK CHANGE:
http://www.bloomberg.com/news/2012-05-20/serbians-head-to-ballot-boxes-with-choice-between-east-and-west.html
In a huge upset...populist and once strong nationalistic opposition candidate Tomislav Nikolic won a narrow victory over recent PM and pro EU membership candidate Boris Tadic in Sunday's presidential run-off.
A prelim count shows
Nikolic
(above foto)
garnered 49.7%....while Tadic won 47%.
Recent polling had given Tadic a big margin of 58%...over Nikolic's 42%.
Experts had warned that a low turnout would favor Nikolic.
Tomislav Nikolic, 60...is a dour former cemetery manager who appeals to rural voters.
He has tempered his skeptical views about the EU to appeal to moderates.
Serbs remain deeply upset about corruption...and high unemployment...during Tadic's 8 years as PM.
The president has power to hold up legislation.
Nikolic called it 'a turning point for Serbia.'