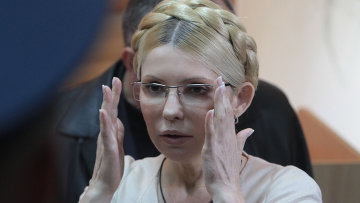 http://www.google.com/hostednews/ap/article/ALeqM5g-3IBeOb24OPDhgTAWXnPQk9XeHw?docId=c3fdac0f15664b11abd5631983663881
Former PM Yulia Tymoshenko, 51, is reportedly suffering a painful slipped disc...and without proper medication...while locked away in a harsh prison far from family and friends in Kyiv.
She is serving 7 years...convicted for abuse of office.
Now...a prosecutor tells AP...that in 1996...her firm may have hired killers to murder a lawmaker...and 2 others.
Her lawyer denies the allegations.
Ukraine is also floating the idea of charging her with high treason for a disputed 2009 gas deal with Russia...which carries a 15 year sentence.
NATO and the EU have expressed disapproval over the jailing of Yulia and former Interior Minster Yuriy Lutsenko.
NEW!!! Report on Yulia's health and treatment.
German doctors recommended outside specialized treatment.
http://www.google.com/hostednews/ap/article/ALeqM5i3DcwLWb3EPVqEJZOko5gzkH5dLQ?docId=bef2c1db84a9432983fd0d0ca53bee48